Bludit v4 Road map
After some time without posting on the blog, I decided to show some progress of Bludit v4. I will try to update this post with some highlights in the changelog.
19/03/2021
Highlights
Plugins settings show the description by default.
"Simple stats" now is "Visits Stats", and only shows visits and unique visitors, I will create new plugins to show more stats such as disk space, number of pages, etc.
EasyMDE updated for Bludit v4.
TinyMCE updated for Bludit v4.
Welcome message now is a plugin for the dashboard, you can disable it.
New branch for Documentation in English for Bludit v4, https://github.com/bludit/documentation-english/tree/v4.0
Move frameworks to a proper folder /bl-kernel/vendors/
Theme:: helper replaced by HTML:: helper.
API feature, activate/deactivate plugins.
API feature, configure plugins throug the API.
API feature, upload and remove site logo.
Plugins for Dashboard
A simple way to add plugins to the dashboard and order them.
23/01/2021
Highlights
API feature, upload/delete profile picture
Included new library for manage images SimpleImages
Warn user before leaving web page with unsaved changes
Refactor as usual of Bludit's core
Handle errors and alerts for the user
Improvements in logs
You can check the commits here: https://github.com/bludit/bludit/tree/v4.0
Refresh UI: User picture profile
Logos
We have new ideas for the logo.
Thank lodria, please check the post in the forum, https://forum.bludit.org/viewtopic.php?f=6&t=1969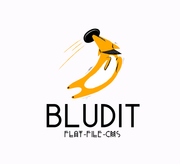 Thanks to Claquettes Bleues, please check the following Tweet, https://twitter.com/bludit/status/1344364223682502660
---
15/01/2021
Highlights
API feature, upload files
API feature, get files related to a page
API feature, generate a friendly URL for a page
API feature, create/edit/delete categories
API feature, create/edit/delete users
Refresh UI: Editor area
Bootstrap v5
Boostrap icons
Editor area via AJAX, you don't need to refresh the page to save your changes
Refresh UI: File manager
Allow upload any kind of type of file.
Logo
I would like to do a refresh of the current logo or change it for a new one, any help is welcome!
Thank to Multicolor by Mateusz Skrzypczak for the following logo.